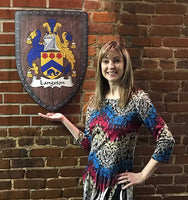 Hand Made in the USA
· Made by US based Artisans
· Hand Crafted Art for wall hanging
· Gallery grade artwork canvas bonded to steel shield
· Finished with clear coating to preserve and protect your name or design
· LONG LASTING (we recommend no direct sunlight)
· 18W" X 24T" X 1.5" curvature
· Hanging Loop for mounting on wall
* MANY NAMES AVAILABLE FROM ALL COUNTRIES
* CAN'T FIND YOUR NAME? CUSTOM WORK AVAILABLE
* BANNER AND ORGANIZATIONAL PROJECTS WELCOME FOR CUSTOM WORK
* CREATE YOUR OWN DESIGN (REQUIRES DIGITAL ARTWORK)
* CAN BE MADE FOR OUTDOORS-SPECIAL ORDER ONLY
* ASSISTANCE AVAILABLE VIA EMAIL
search names
English Heritage

Family Coat of Arms
Hispanic Heritage

Family Coat of Arms
German Heritage

Family Names and Coat of Arms
Custom Designed

Family Coat of Arms
Law Enforcement

Appreciation Gifts and Awards
Military

Awards and Appreciation of Service
English Heritage
Family Coat of Arms
Hispanic Heritage
Family Coat of Arms
German Heritage
Family Names and Coat of Arms
Custom Designed
Family Coat of Arms
Law Enforcement
Appreciation Gifts and Awards
Military
Awards and Appreciation of Service
Medieval Themed Shields For Display and Re-enactments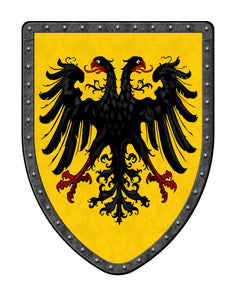 Medieval Battle Shields
We also make medieval battle shields for battle ready use with leather straps!

If you are into medieval collectibles and re-enactments, you may have seen many of our pieces online in specially stores and with major online retailers.

We have dozens of stock historically based styles.
Also available:
Custom design your re-enactment colors and emblazon them on a custom shield!
See our complete line of medieval display shields and replica medieval battle shields at: http://www.swordsandarmor.com
IT TAKES TIME TO MAKE PERFECT
All of our family coat of arms shields and products are hand made in the US in Georgia..

We take pride in our work and products and strive to create a one of a kind treasure to fill each order.

This process takes about 2 weeks.

These shields aren't sitting in some boat or on a shelf pre-made.

They exist only after we bring them to life when you order them.

CELEBRATE YOUR FAMILY NAME with one of our hand crafted coat of arms shields.

You will be proud to display it and your family and friends will want to know where you got it!

We hope you will tell them and share our company with them too!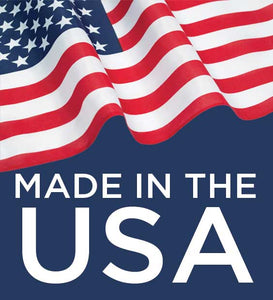 How We Make Your Family Coat of Arms
Our family coat of arms shields are made of steel with a durable coating. The shield is then covered with a gallery grade artwork canvas that contains your coat of arms design. We then bond the the artwork to the shield and then seal it with a durable clear coating to protect the coat of arms artwork.
The shield dimensions are 18' x 24" and the have some curvature like a real medieval battle shield. The pieces are hand crafted individually to order and carefully packaged in a heavy corrugated container to insure safe transportation and arrival.
We ship primarily via Fed Ex Ground service for commercial or home delivery. You are alerted at the time of shipment that your coat of arms is on it's way and you can track the shipment progress. If you have special delivery instructions, please let us know at the time of order.
Order Leadtime
Our production lead time is approximately 2 weeks. It takes time to hand make your coat of arms shield and insure proper curing and packaging. We think you will agree that the wait is worth it once you see your custom made, one of a kind shield.
Country Coat of Arms
We manufacture an entire line of country coat of arms. Our selection grows daily. Choose from countries like England, France, Spain, Norway, Sweden, Russia and many others. We use the same process as our family coat of arms line. The shields are also 18"x24" in size and they have the same 2 week production lead time. Each coat of arms has bold unique artwork and they of one of a kind treasure you will be proud to own and display. Celebrate your country heritage with one of our hand made country coat of arms shields. They too are hand-crafted in the USA.
We can customize a shield or assist you in creating a unique design. Contact us with your ideas and get the process started. We will work with you to design and produce your shield.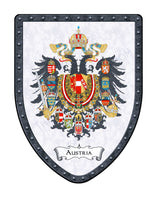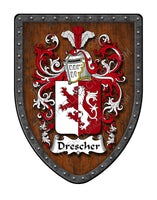 Custom Coat of Arms
We can work with you to design a unique coat of arms for your family of your own creation. Contact us with your ideas and images and we will put together a shield for you per your guidance and instruction. We may have to enhance images to get the best clarity. You can help us by providing images of high resolution that you own the rights too. That means you have a photo or have designed an image yourself or have had someone design it for you.

300 dpi is best. Images should be in the megabyte range and not Kbytes for best clarity and sharpness. We cannot use copyrighted images in the creation of a custom coat of arms. We can assist you in creating one that is unique and all you own.
Custom designed coat of arms will cost a bit more than our stock line but the cost is reasonable considering the extra amount of time required to create them from scratch. Expect to pay about $199 usd.
Contact Us
The History of Heraldry and Family Coat of Arms
The Adoption of Coat of Arms by Nobility
Heraldry designs began to be widely used by European aristocrats in the 12th century. The systematic and heritable heraldry had been developed in the early 13th century. According to laws or social practices, there is a certain degree of difference between different countries as to who has the right to use weapons. Early heraldry designs were personal and used by individual nobles (over time, they might also change the design they chose). By the end of the 12th century, during the Third Crusade (1189-1192), King Richard I had hereditary weapons in England.
Although there is no universal, enforceable and extensive regulation, the [citation needed] coat of arms remains consistent throughout Europe, and only tradition can govern the design and use of weapons. some countries, such as England and Scotland, still maintain the same heraldic authorities that have traditionally granted and managed weapons for centuries and continue to do so today. For example, in England, the award of weapons is and has always been controlled by the Weapons Academy.
The origin of armorial family arms refers to coats with heraldic patterns worn by combatants, especially in the old French cote a armer knight competition. This meaning was transferred to the heraldic design itself in Middle English in the middle of the 14th century.